[Close this window to return to previous page]

The Birth of the
Northeastern Spoon Collectors Guild

While several spoon collectors' groups have enjoyed varying degrees of activity in the past three decades, spooners in the New York/New England area continued to be a scattered lot until one man pursued the vision of forming a regional club. That man was Charles Morrison of Rochester, New York. A veteran collector himself, Charlie had already attended several exciting national and international collectors' meetings when he determined that the time was right to organize a club in the Northeast. He felt that there were lots of collectors who for a variety of reasons couldn't travel to every national meeting but might be inclined to go shorter distances to smaller meetings. He made it his personal mission to organize such a club to involve and unite collectors interested in attending area meetings on a more frequent basis.



From his efforts the Northeastern Spoon Collectors Guild was born on July 15, 1987. Almost single-handedly, Charlie put together a charter convention in Rochester, NY, to launch the club. About 50 people attended the four-day event, coming from as far away as Colorado and Florida. From those Rochester roots, the club began to slowly take shape. A Steering Committee was formed to begin long-term planning, and almost immediately there was talk of hosting a national convention somewhere in the Northeast.

Nearly three years later in July, 1990, the NSCG, then blessed with what some have described as a core group of "obsessive compulsives," hosted "A Souvenir Spoon Centenary" at Salem, MA. Over 100 spooners, some from as far away as Australia, came together for an extremely memorable convention. The event had been planned to coincide with the 100th anniversary of the 1890 issue of the first Salem Witch souvenir spoon, the very spoon which had launched the entire souvenir spoon craze of the 1890s. So a witch seemed a natural choice for the convention logo. But taking care not to infringe on Daniel Low's patented witch trademark, a stylized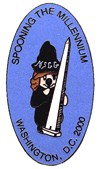 witch was created expressly for the convention.

Thus, the Happy Witch was born. She has continued to represent our club through the ensuing years, often changing her mode somewhat to address current club events. In 2000 when the club hosted its third successful convention in Washington, D.C., the Happy Witch could be seen clinging to the base of the Washington Monument. The pin for our Niagara Falls Convention in 2006 found our happy witch going over the falls in a barrel. At all times you will find that she is also "hanging a spoon" from her nose. At the first convention in Salem, the tradition of spoon-hanging was also born. The convention planners, worn to a frazzle, yet overjoyed with the success of their first big event, became a bit hysterical at the final banquet. One person silently picked up a teaspoon from the dinner table and nonchalantly hung it from the tip of her nose. Another person followed suite and soon everyone in the entire room was trying the questionable art, hanging spoons from their snozzolas while seemingly engaged in normal conversation as if nothing was awry. To this day, most events end with the traditional spoon hanging as a way of celebrating the success of yet another gathering.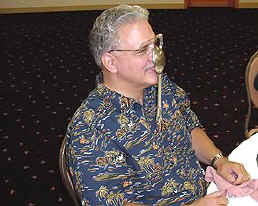 Today the NSCG publishes a quarterly newsletter as well as a yearly membership roster available only to its members. These publications make use of some jargon normally associated with witchcraft merely as a gimmick, not because there is any association with the occult. Our stated goal is to dedicate ourselves to "the enjoyment of the spoon collecting hobby," and our current membership of approximately 200 continues to strive in that direction.



The "Owney" Spoon Donated
to the National Postal Museum
of the Smithsonian Institution

Nancy Pope, Historian of the National Postal Museum of the Smithsonian Institution, had been wanting to add the Owney spoon, produced by the Webb C. Ball Co. of Cleveland, Ohio to the Owney display for many years. How to obtain this expensive spoon to put near the feet of this Mascot of the US Railway Mail Service puzzled her. When she saw a picture of the spoon on this NSCG web site she contacted Norma Bowen. History was in the making!

At the spring meeting in Chicopee, Massachusetts in 2004 the NSCG launched a national fundraising drive to raise the funds to purchase this spoon and present it to the National Postal Museum of the Smithsonian Institution.

Spooners and friends were very generous. Norma was able to successfully win the Owney spoon on eBay. Thus, ten NSCG members gathered in Washington, DC to hear our President, Anne Marek, make the following presentation to a thrilled Nancy Polk in front of the Owney Display:

"The Owney Souvenir spoon is hereby donated to the National Postal Museum of the Smithsonian Institution by the Northeastern Spoon Collectors Guild on April 2, 2005, on behalf of all spoon collectors."


This Owney exhibit is most popular. A taxidermist preserved this beloved dog after his death in 1897. He still wears his harness jacket with his baggage tags today as he did when he rode the trains. This little mixed terrier of the Albany, New York Post Office is purported to have traveled some 143,000 miles across four continents aboard mail trains and steamships. The baggage tags saw that he always returned to Albany. Owney rode the trains during a dangerous time with many train accidents. He was considered a good luck charm because no one ever suffered an accident while he was aboard and no mail was lost.

Please visit the National Postal Museum of the Smithsonian Institution if you are ever in Washington, DC. The Owney display is easy to locate. You will see the NSCG's bit of history and learn a lot more about this beloved Postal Mascot, Owney

[Close this window to return to previous page]